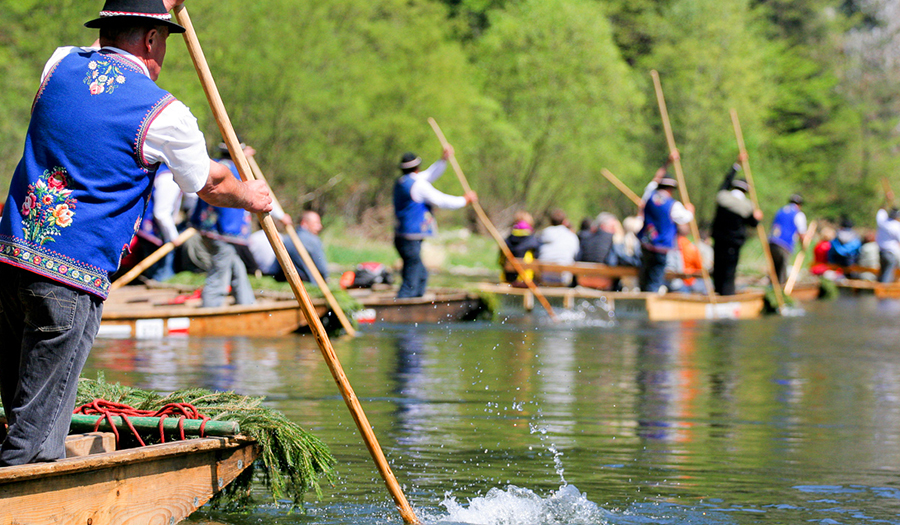 Additional Attractions
As a Group we have many opportunities to organize additional attractions to enrich your guests stay and make your event even more special. Tell us what are your expectations for additional attractions. We can offer e.g.:
Horse riding and winter sleigh rides with in Horse Stud RAJD (www.stadninarajd.pl);
Hiking, horse riding and cycling trails full of beautiful views, leading to the highest peaks of the Pieniny and Gorce Mountains and nature reserves such as Homole Gorge, High Rocks or White Water Reserve;
Rafting down the gorges of the Dunajec on traditional wooden rafts piloted by Flisacy (raft sailors) dressed in traditional costumes;
Palenica chairlift with a magnificent panorama onto the Tatry, Pieniny and Beskid Sądecki ranges and Szczawnica city. In the neighbouring village of Szafranówka, a 700 metre-long slide, only open in summer, provides plenty of fun for young and old alike;
Several ski slopes and good snow conditions allow visitors to practice alpine skiing, snowboarding and cross-country skiing, not forgetting snowmobile and sleigh tours;
Water sports - test your skills by kayaking down the capricious rapids of the Dunajec river and challenge the greatest on the slalom runs where Olympic champions train;
Adventure park - where all adventurous can experience exciting moments on the fresh air by challenging physical and mental capabilities. The park offers three routes of varying difficulty, as well as a number of other attractions;
Off Road - on board of specially prepared off-road car and under the supervision of an instructor, you can overcome the mountain forest trails and make an unusual exploration of the Pieniny mountains;
Paint Ball - is an the ideal entertainment on the fresh air in the mountain slopes and forests.
In addition, we also offer something "for the spirit". we invite you to take part in:
Live concerts in the Guest Manor and Jazz Bar - on special request we invite artists who enrich the evening with their artistic program;
Evening barbecues with the folk music band - grill or traditional banquet is a perfect choice for an original evening. While roasting a pig or lamb the original folk music band can pleasantly play on the side;
SPA treatments - our sanatoriums offers e.g. cryosaunas, wild choice of massages and gymnastics, or you can take advantage of our allergy clinic.